Jasmy price prediction as Japan's Bitcoin surges
Jasmy price has jumped in the past four days.

It has jumped by more than 40% from the lowest point in 2022.
Jasmy price has had one of the best performances in 2022 as investors bought the dip in Japan's Bitcoin. It has risen in the past five straight days and moved to the highest level since December 11. These gains represent about a 40% increase from the lowest level in 2022, giving it a market cap of over $100 million.
Why is Jasmy soaring?
Jasmy is a relatively small blockchain project that has become popular in Japan. The platform was started by a team of former executives at Sony, one of the leading entertainment companies in the world. The platform was created to provide decentralized data storage solutions to companies and individuals.
The creators recognized the importance that data plays in the world today. Indeed, we have seen multi-billion dollar companies like Google and Meta Platforms that make money from selling data to advertisers. Data privacy has also become an important part of the word debate today.
Jasmy plays an important part in the democratization of data by combining blockchain and Internet of Things to provide an infrastructure that allows anyone to use data safely and securely. Users can store and control their data, manage and control devices, and provide a safe place to use data in a secure manner.
Jasmy's platform is made possible by a number of popular technologies. Some of the top components of its technology are the Personal Data Locker, which enables data storage within a peer-to-peer network. It also has a secure knowledge communicator which allows data democratization and smart guardian that allows the registration of devices.
It is unclear why Jasmy coin price has done well in the past few days. A likely reason is that the developers are about to make a major announcement such as a partnership with a major company. There is speculation that the network will soon partner with Sony.
Jasmy price prediction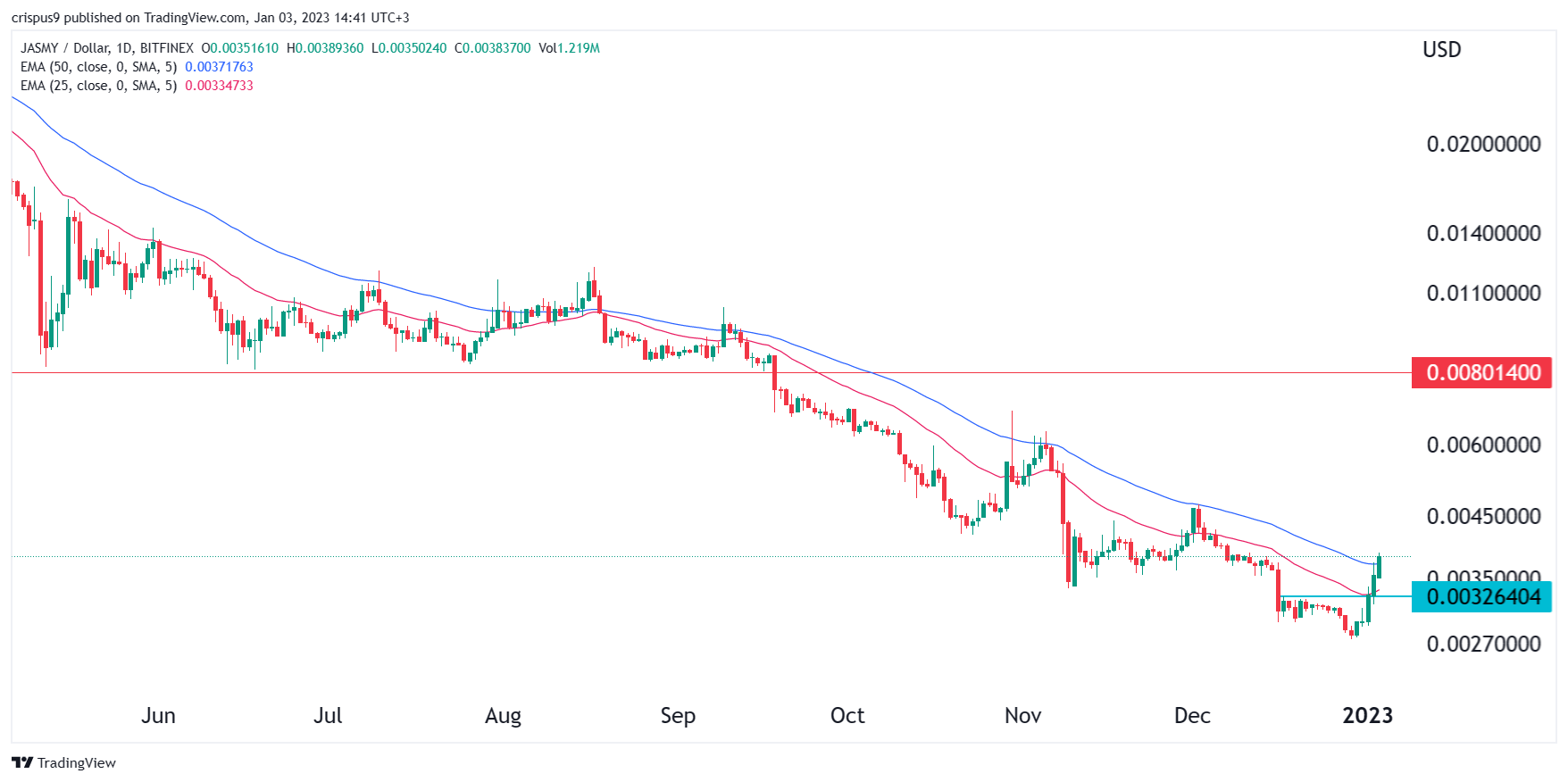 The daily chart shows that Jasmy price has been in a strong bullish trend in the past few days. It has risen in the past fou straight days and managed to move above the 25-day and 50-day moving averages. The Relative Strength Index (RSI) has moved slightly below the overbought level.
Therefore, as I wrote elsewhere, I suspect that Jasmy will retreat in the coming days as the short squeeze fades. Also, it will decline as some of the current buyers move into a distribution phase. If this happens, the next key level to watch will be at $0.0032.
How to buy Jasmy
Coinbase
Coinbase is a global cryptocurrency exchange. Its platform is well designed for beginner investors and it offers a wide range of coins, as it has over 100 to choose from. Coinbase has high level security built into the platform, a range of diverse features to use and it offers its users options for storing their crypto, such as being able to store coins on the Coinbase exchange.
KuCoin
Kucoin is a cryptocurrency exchange which offers over 200 cryptocurrencies. Kucoin has a wide range of services, such as; a built-in peer-to-peer exchange, spot and margin trading, bank level security and a wide range of accepted payment methods. Users can benefit from a beginner-friendly interface and relatively low fees.
The post Jasmy price prediction as Japan's Bitcoin surges appeared first on CoinJournal.